All-New Icon Pillow!
Exclusive offer for all Kickstarter backers (and future Kickstarter backers)!
We've been secretly developing a redesign to our famous Icon Pillow — Introducing the all-new Icon Pillow! Thanks to the success of the Kickstarter campaign so far, we are now offering the Icon Pillow as an exclusive Kickstarter add-on!
How do you get one? Add $20 to your Kickstarter pledge (of 1 or more Iconic Pillows) and get a new Icon Pillow (a $40 value)! That's it!
Note: If you have not backed our Kickstarter yet, you can select one of the reward tiers that includes the Icon Pillow.
FAQ
How do I get an Icon Pillow?
It's easy! Simply add $20 USD extra to your Kickstarter pledge. **Pledge for 1 or more Iconic Pillows to qualify for this offer.
How do I add $20 to my existing pledge?
Go to the our Kickstarter page here: https://thr.by/kickstarter
Click on Manage your Pledge
Click on Change your Pledge
Add $20 USD to your pledge. (Ex. If you paid $45 USD, change your pledge to $65 USD.)
Click Confirm
I already pledged for a Spinning Wheel (of Death Pillow), can I also get the Icon Pillow?
Yes of course! Simply add $20 on top of your current pledge amount.
What if I want more than one Icon Pillow?
That's easy too! Up your pledge in $20 increments. If you want two, add $40 to your pledge, If you want 3 add $60 to your pledge and so on.
Can I wait and get this pillow later?
Yes. But the pillow will retail for $40 when it comes to our Shop in February 2019.
When will this pillow ship to me?
The Icon Pillow will ship along with your Iconic Pillow(s) when we begin shipping Kickstarter rewards (January and February respectively).
Do I need to tell you that I increased my pledge to get an Icon Pillow?
No you do not. We are keeping track of every pledge. When the Kickstarter ends on September 14th, you'll receive an electronic survey where you'll be able to choose which pillows you want.
What is the difference between this design and the previous designs?
This design is one of our original Throwboy pillows and it has seen many revisions. The most recent version we offered was a limited edition Throwboy Signature handcrafted pillow.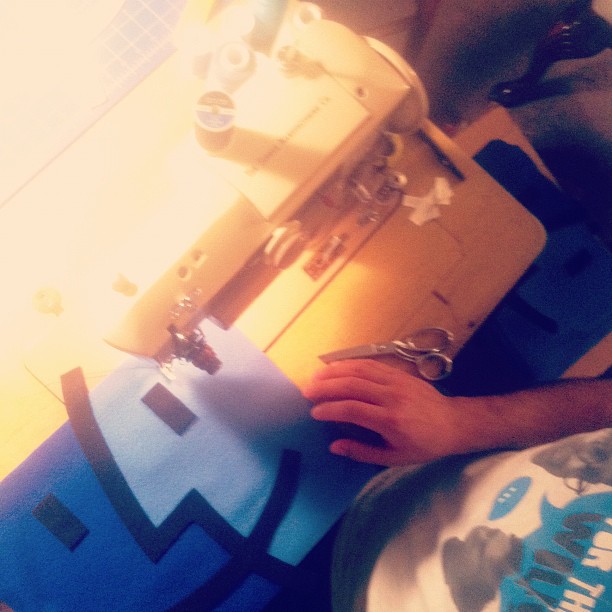 from the throwboy archives 2008
Roberto sewing the first Icon Pillows